Part 2: Life at Home with your Corner Studio Teachers
Some of us are back in the studio, but for the most part, we're all teaching virtually. It has been almost a year of livestreaming – here's an update!
We've been livestreaming for about a year now and the adjustment was mostly seamless. Inevitably, we all have moments of technical difficulty, do you have any funny stories to share?
Amie: It's amazing to me how seamless it has been! Except for that time when the power went out on our block and I taught by candlelight and my 2 year old joined me for the end of it (usually I get to go to our shed to teach but it would have been too dark and cold!). There was also the time my husband had a meeting that started exactly when my class was ending and so he dropped off Caroline and our 2 dogs in the shed so everyone came out of savasana to see our family parade! Why the dogs couldn't stay inside alone, I will never know.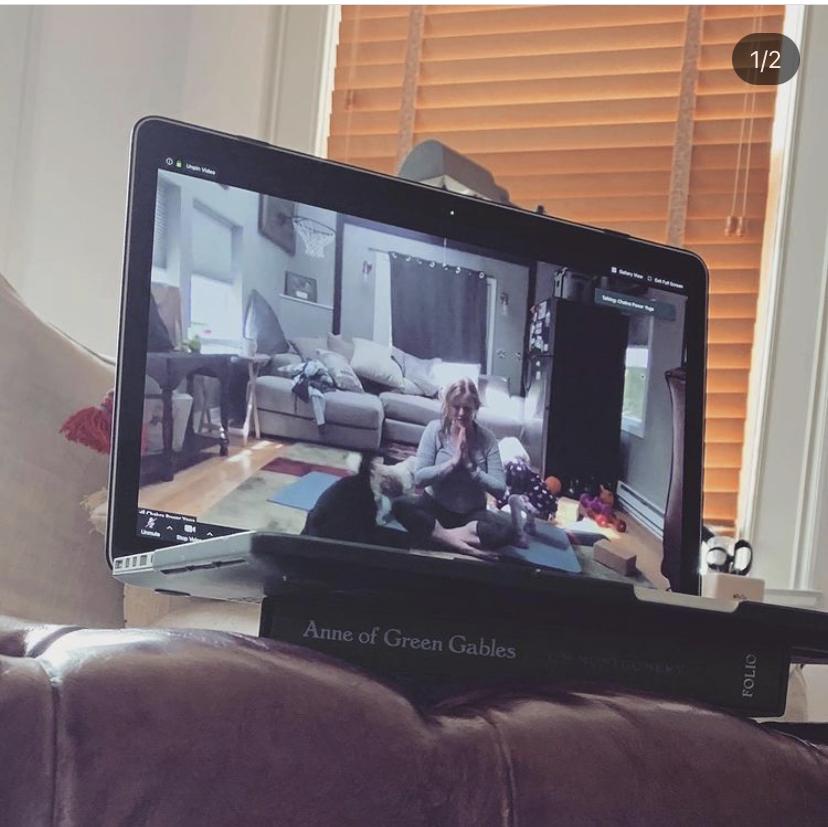 Jenna: In the Fall, a bird somehow flew into the studio right before the start of a hybrid class.  It made for an exciting opening meditation!  Luckily, all students and the bird made it out safely.
Lisa: I've been lucky not to have too many technical difficulties, but I can share a pet story. My cat Phillip was a big fan of attending every class for a while and during one of my classes I caught him staring into the camera.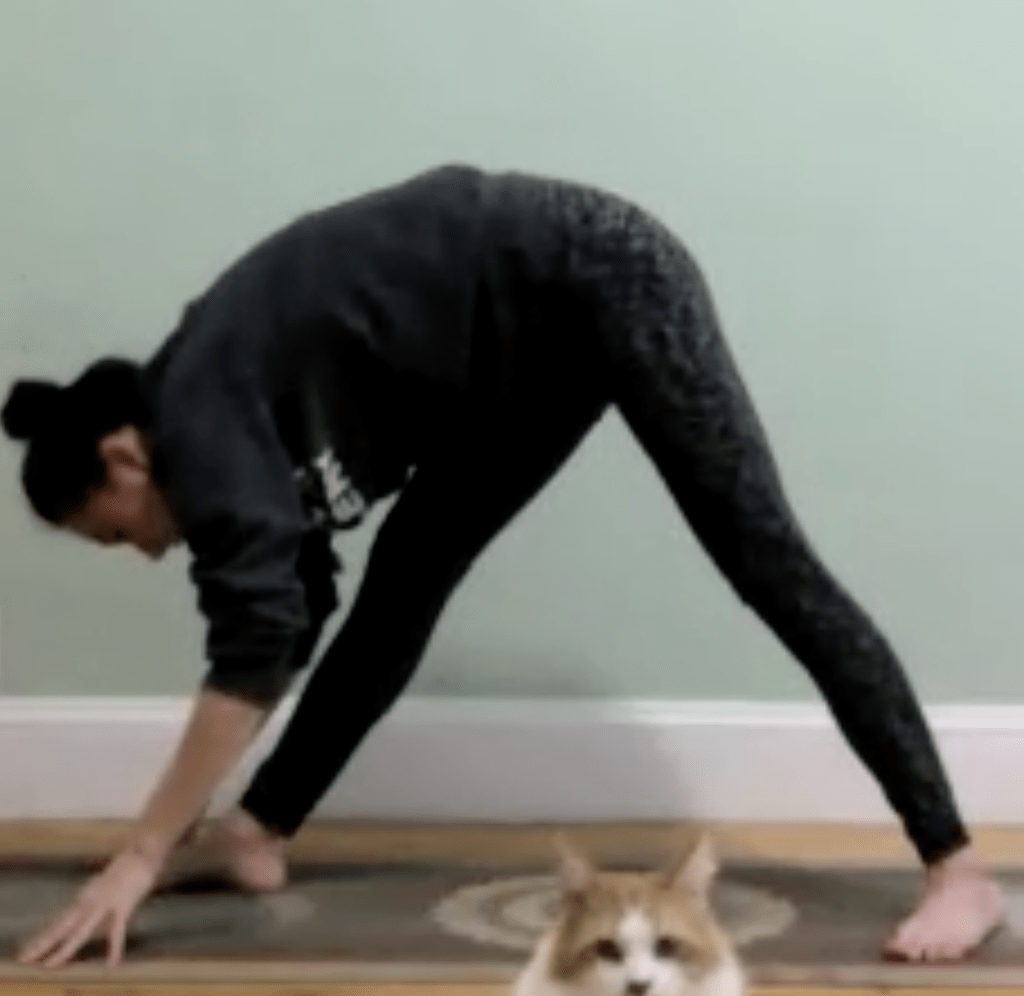 What's new with you? Have you picked up any new hobbies, added a new family member to your home, moved, graduated?
Amie: I have a new daughter Daisy and she is the sweetest, happiest baby! We are so lucky. Caroline is an awesome big sister and Brian (my husband) is loving being a #girldad (he has a shirt already.) 
Jenna: My daughter, Evie, will be two in May (where has the time gone?) and she keeps me plenty busy.  We've mostly been cooking, baking, jigsaw puzzling and taking many virtual yoga and fitness classes.
Mia: I'm about to graduate with my BFA (finally!!) so that's exciting.

Many students find it challenging to practice yoga at home, do you have any advice on how to make home practice more manageable?
Amie: It certainly is challenging to practice at home. In a dream world, I would create a space dedicated to my yoga practice with maybe a nice plant. I do my best to stay focused and ignore any mess/clutter/toys when practicing. I once turned off the lights in my room so I would stop looking at all the clothes I needed to fold. I always feel better once I practice. And I try to think about what makes me grateful about a virtual practice. I am able to practice with my favorite teachers far more often, my commute is amazing and I LOVE practicing yoga with my dogs. 
Jenna: I find it's best to schedule my yoga time.  I put it on my to-do list like I do with any other task.  It may sometimes feel like a chore, but the consistency can be powerful.  Our schedules don't always allow for the luxury of a full 60 or 90 minute practice, so remind yourself that short practice or meditation still counts and can inspire a positive shift in your mood.
Lisa: I like to practice with wireless earbuds if there are other people around. It keeps the background distractions to a minimum and I can avoid adjusting the volume during class. I also recommend adjusting your surroundings as best you can to create a sense of calm – that may mean moving the laundry to another room, lighting a candle, or facing away from the clutter.
Mia: I love to really make the space feel special so I'll turn on the least amount of lights (warm glowy lighting), maybe light some candles, play music if the teacher isn't in the background — anything to make the space feel special and signal to my brain "ok, we're shifting internal here. Your carving out some time for yourself and this is a worthwhile commitment."

As a small business, we believe it's important to support other small businesses. Is there a business that you love and want to share with the TCS kula?
Amie: My friend Sara White makes amazing candles that have been such a comfort (you can find her on Instagram @living_ritual).  I also love this little BIPOC owned shop, Bella Sei, if you find yourself in Braintree! 
Jenna: I feel so fortunate to be surrounded by so many fantastic small businesses.  Daddy Jones Bar, Salon Cu, and 4GoodVibes are a few of my favorites.
Lisa: There's a lot to love around here! Some of my favorites are Neighborhood Produce in Ball Square (hand down best berries!), Goldilox Bagels, and Lucky House MFG (who prints the merch for the studio!). 
Mia: Taco Party!!! (always!)